Mixed media on Cast-Off Wood / Stained glass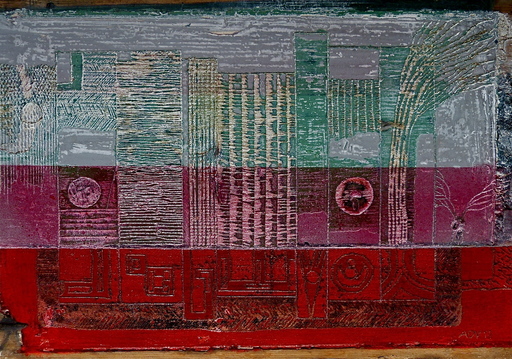 Old wood, floor boards, doors and shelving make the foundations of my artwork. My preferences are antique wood from homes that have been painted over many years. Different layers show the history of former residents.
I scratch, carve and pierce into the wood to create different textures. Bold, old colours, remnants of wallpaper, anything that will give it depth in areas where I peel back time to reveal the natural woodgrain.
An affect can be also achieved by glueing sand, lead and other materials on the board in its 'before state'.
I will sometimes add and combine colours I like, that are: white, red and gold, often partially sanded down afterwards.
It is my aim to realize a fine synthesis of graphics, textures, colours and ideas which I call 'Mixed Media on Cast-Off Wood'.
The images I engrave in the wood show a pronounced personal visual language. You may notice landscapes, constructions, buildings, letters, birds and sometimes a figure or portrait. But also unfamiliar forms, signs and symbols. All emanated from impressions of my life in Friesland in the northern part of the Netherlands, merged with my travels in distinguished cultures, like Russia, Egypt, Yemen, Mexico, Guatemala, Indonesia, Australia and New Zealand.
I also have a strong interest in architecture, history, visual arts, ancient writing and nature. All these interests entwined have enriched my live as a person and artist.